September 02, 2022
The Atlas Group has made a generous contribution towards the naming of theCentral Building at LUMS after their former Chairman, late Mr. Yusuf H. Shirazi.
Mr. Shirazi was one of the founding members of LUMS and served on its Board ofGovernors for several years. He was also a founder member of the Karachi Stock Exchange, Lahore StockExchange and International Chamber of Commerce and Industry. Mr. Shirazi had an illustrious career, andin recognition of his services was awarded the Sitara-i-Imtiaz by the Government of Pakistan.
To honour him a naming ceremony was held on August 31, attended by Mr. Ali H.Shirazi, President/Chief Executive, Atlas Battery Ltd., Mr. Iftikhar H. Shirazi, Chairman Board ofDirectors, Atlas Foundation, and Mr. Noor Ullah Hassan, CEO, Atlas Foundation.
Representing LUMS were Syed Babar Ali, Founding Pro Chancellor; Mr. ShahidHussain, Rector; Mr. Abdul Razak Dawood, Pro Chancellor; Mr. Osman Khalid Waheed, Member, Board ofTrustees; Dr. Arshad Ahmad, Vice Chancellor; and Ms. Nuzhat Kamran, Director, Office of Advancement.
This new space, named the Yusuf H. Shirazi Complex, will serve as a hub ofintellectual exchange where faculty and students from across the University can come together andinteract. The building will be a dynamic centre to hold classes, seminars, workshops, conferences, andvarious events. It will also be a place where the different research centres at LUMS can collaborate andlead the effort towards multidisciplinary research.
Remembering the late Mr. Yusuf H. Shirazi at the MoU signing ceremony, SyedBabar Ali said, "He was a person of tremendous courage and foresight. I hope this building will be afitting tribute to his memory and the generosity of his sons and family."
Mr. Ali H. Shirazi, speaking about his father, said, "This project will be atestament to the love he had for LUMS, and his dedication towards promoting education in Pakistan." Mr.Iftikhar H. Shirazi also reiterated the generosity of his father. "He used to say what comes fromsociety, should go back to it. His vision also included stressing on education, especially for women."
Mr. Dawood recalled the LUMS charter in which the Shirazi family was anoriginal signatory; late Mr. Yusuf H. Shirazi helped set-up LUMS and believed that the most importantthing needed in Pakistan was education.
Dr. Arshad Ahmad spoke about the functionality of the Central Building and theconversations had at LUMS to conceptualise it. "We wanted the most promising Centres at LUMS to behoused here. We asked our Centre directors to present their vision to make a difference in Pakistan, andon the basis of this, six centres were shortlisted."
He also added that the Yusuf H. Shirazi Complex would become the hub of LUMS'internationalisation efforts for students and researchers.
Other facilities housed at the Central Building include a 500-seat auditorium,classrooms, discussion and team rooms, student council and students' centre, recording studio, radiostation, Makers Lab and exhibition area/gallery, a cafeteria and faculty lounge.
LUMS has a long history of association with the Atlas Group which hascontributed to the National Management Foundation, as well as scholarships for financially disadvantagedstudents.

July 27, 2019
Annual Sales Conference was held on 27th July, 2019 at Atlas – HRTC Karachi.This year's theme was "Innovate – Reinvent – Refocus – The Time is Now". Presentations on zonalperformance and strategies to achieve targets, were made by the Zonal Managers for all businesses. HOD'salso gave presentations on New Business Horizon.
Mr. Aamir H. Shirazi, President, Atlas group was the Chief Guest of this event.He distributed Awards of excellence to best performers for the year 2018-19.
The closing remarks were made by Mr. Bashir Makki, Group Director HR and MemberSTC.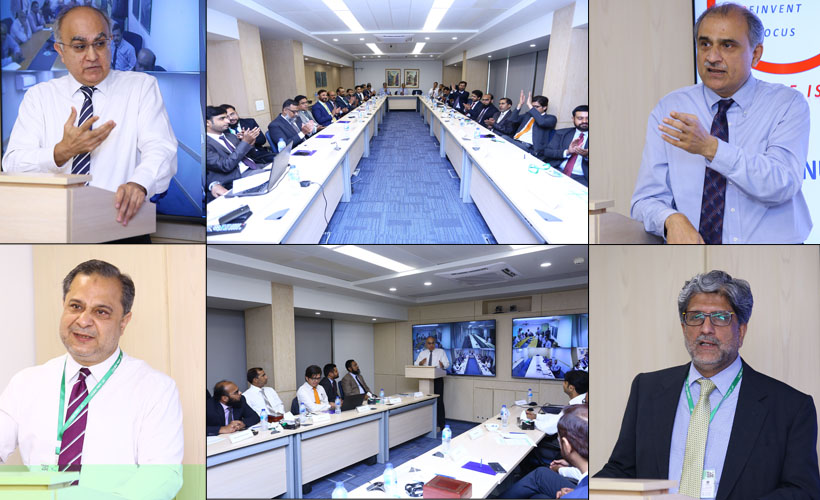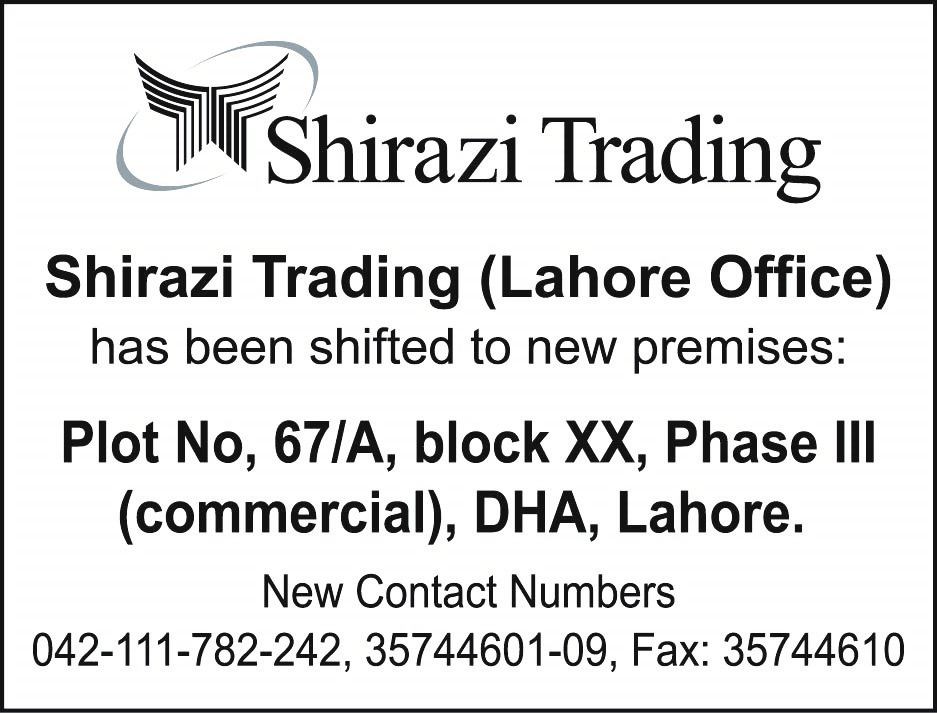 DUBAI: American multinational conglomerate General Electric (GE) isinstalling health solutions and upgrading infrastructure at military-run hospital in Pakistan withfinancial assistance of the US military, said the company's official.
"We are doing a lot of work in the health sector of Pakistan, at itsmilitary hospitals, out of the aid provided by the US military for the Pakistan Army, " said MaherAbouzeid, President and CEO of GE middle East and Turkey.
Abouzeid said a team has left for Pakistan for site preparation.He said theup-grades will be in phases for the sizeable project for which, "A lot of money is being injected and alot more to come"
Meanwhile, GE announced industrial internet and software solutions, aimed ataccelerating business productivity and growth at an event, titled "Mind + Machines 2015".
GE Chairman and CEO Jeffrey Immelt said Middle East region and Pakistan areto embrace the digital industrial economy.
Immelt said GE's Industrial internet and software solutions offer a 20percent potential increase in performance and efficiency in the energy generation.
Several industrial leaders in Middle East Pakistan are among the world'sfirst-movers to embrace GE's software solution that integrate heavy machinery with big data andanalytics to achieve unprecedented levels of efficiency, productivity and profitability.
Industrial Internet applications are also being deployed for productivityenhancements and performance improvements at Engro Powergen Qadirpur and Sapphire power plants inPakistan"these solutions could help unlock $465 billion in economic value for industrial across theMiddle East, North Africa, Turkey and Pakistan by 2025 annually," Immelt said.
"Our partners here have recognized the value that industrial internet canbring to their business and have begun to implement technology that have the potential for game-changinggrowth."
He said the intersection between the physical world of industrial anddigital world of software will transform productivity.
"By accelerating the growth of a stronger, broader and more diversifiedmanufacturing sector, the industrial app economy will enable the creation of more high-skill jobs forthe region and Pakistan's young and growing population," he added.
William Bill Ruh, Senior vice President and chief digital officer at GE saiddigital is the future of industrial, and the industrial internet is the key driver enabling GE to leadthe next generation of industrial progress.
"We know industrial machines and businesses, and we know how to buildsoftware that will best serve and optimize them" Ruh said.
"This meshing of advanced industrial technology with big data analyticsgives customers cutting-edge solutions that only GE can provide."
Annual Sales Conference of Shirazi Trading Company was organized in August 06, 2015 at Ramada Hotel, Karachi. This year theme was "Drive profitability through sustainable growth". Conference was opened by Mr. Aamir Shirazi, President, Atlas Group and was closed by Mr. Yusuf H. Shirazi, Chairman Atlas Group.
Presentations on Zonal performance and strategies to achieve target were made by Zonal Managers of Business Solutions and Healthcare Solutions departments (South, Central & North Zones).
As a part of employee engagement initiatives, Cricket match was arranged by STC's Human Resource Department at Karachi, Lahore & Islamabad during the month of April & May 2015. Cross functional teams were formed during these matches in order to enhance / develop synergy & team-ness among the associates.
As a part of philanthropic activity, STC in collaboration with Indus Hospital, Karachi arranged "Blood Donation Camp" in Head Office & Karachi Br. on June 17, 2015. The drive was aimed at supporting Indus Hospital in its cause of meeting blood requirements to be used free of cost for the poor & needy patients. In recognition of STC volunteers, Indus Hospital issued certificate of service for humanity & screening report to each donor associate
In order to motivate our associates to work with more dedication, commitment & passion, STC in collaboration with Talk organized an in-house motivational session on "Power of Ambition" in August 2015. Mr. Laeeq Ur Rahman Khan, Training Consultant conducted this session. Session was focused on setting goal while going an extra mile with enthusiasm & passion.
18 associates from Head Office & Karachi from different functions participated in this interactive session.
As a part of employee engagement activity, STC's Human Resource department organized the "treasure hunt activity" in Karachi & Islamabad branch on June & August, 2015 in its initiative to gather all our associates on single platform to create harmony & better understanding.