FPS™ Split Drive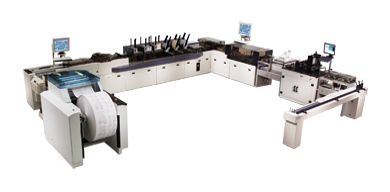 Product Details
The new FPS Split Drive is ready to handle all your mail requirements. Multiple format sizes and material types are catered for by the flexible chassis and feeder designs. rnrnNow you can really process your mail on one system: run DL envelopes at up to 14,000 mailpieces per hour, C5 envelopes at up to 12,000 mailpieces per hour and flats mail up to 9,000 mailpieces per hour. It's the perfect solution for meeting and exceeding all your Service Level Agreements!
Specifications
Cycling Speed Up to 14,000/hr on DL Up to 12,000/hr on C6/5 and C5 Up to 9,000/hr on C4 Power Requirements 3 Phase, 400/230 VAC, 50Hz, 32A , 5 wire connection Number of Insert Stations From 3 to 24 stations (multiples of 3) Maximum Collation Thickness 10mm standard Envelopes DL, C6/5, C5, C4 Inserts A6 - A4 Insert Materials Processable insert material is dependent on the feeder technology selected *Specifications are subject to change without notice. Performance may vary depending on the exact job configuration, materials and environmental conditions.
Features
FPS Split Drive Technology Yields Superior Productivity and Throughput. The name says it all - the FPS Split Drive system allows the inserter to separate document collation-assembly and the envelope insertion function processes. Each operates independently to dramatically reduce the system downtime. Increased Productivity Powers Maximum Output. Servo motor technology powers consistent performance to achieve new levels of system and operator productivity. The durability of this technology helps reduce unscheduled downtime and substantially extends the intervals between regularly scheduled preventative maintenance. Servo technology offers an "instant on" eliminating the unproductive ramp-up time associated with mechanical systems. Additionally, servo powers fast application adjustments, allowing you to run multiple job types on one system with rapid changeover. The system can store and instantly recall each application's guidelines for a true load and go performance.