Comet Inserting System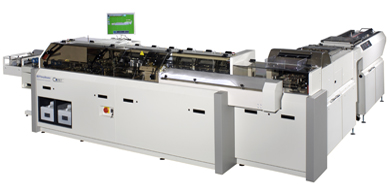 Product Details
The Comet Inserter System helps you combine high production integrity with high-speed flexibility. For accurate processing of medium to high volume applications, Pitney Bowes has developed the Comet to help your business adapt, guaranteeing you stay one step ahead of the changing mailing industry.
Specifications
Cycling Speed Up to 12,000 Cycles per hour Power Requirements 3 Phase, 400 VAC, 50/60Hz, - Standard Number of Insert Stations From 4 to 24 stations Envelopes From C6 to B5 (89 x 152mm to 175 x 244mm) Inserts From A6 to oversized A5 (89 x 114mm to 156 x 224mm) Maximum Individual Insert Thickness Up to 4mm Maximum Accumulated Pack Thickness 12mm standard *Specifications are subject to change without notice. Performance may vary depending on the exact job configuration, materials and environmental conditions.
Features
Comet has many technical innovations designed to keep your mail-pieces moving. Comet features include intelligent gripper arms: flexible insert feeders to handle material of all shapes, sizes and finishes, including; business cards, Z-fold, open end, high gloss and CDs.